Vinyl Collar Guard Bend Restrictors
VCG
View Larger Image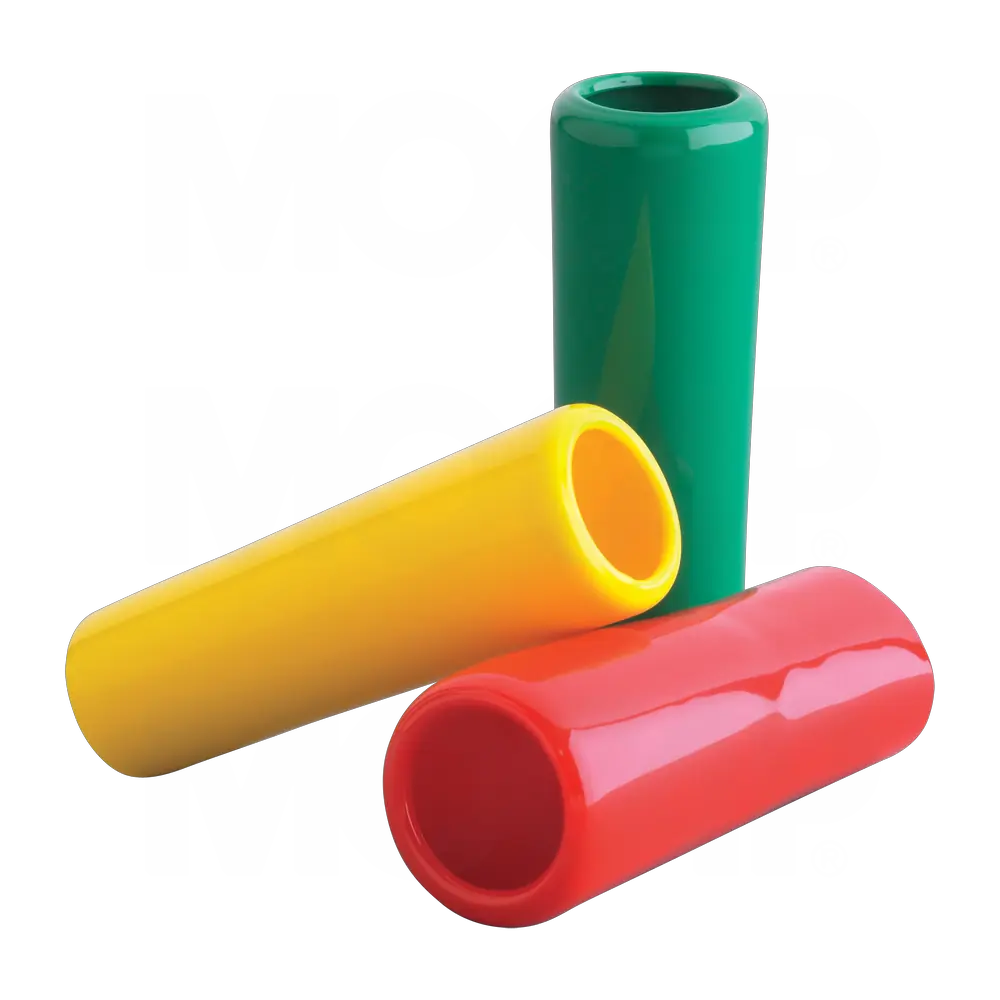 Material: Vinyl
Flexible Yet Durable - Won't Split, Tear or Shred
Prevents Kinking on Consumer and Industrial Hoses
Printable
Part #
Description
Inside Diameter

To Fit Hose Size
Wall Thickness

Stocked Length


in

Buy Online
More info
VCG9478
Vinyl Collar Guard Bend Restrictors - COLLARGUARD #5 .720 X 3-1/2

19.4

0.72" (18.29mm)

0.060

1.5

-
VCG9475
Vinyl Grips and Bend Restrictors - COLLARGUARD #1 .870 x 3-1/2"

23.2

0.87" (22.1mm)

0.060

1.5

-
VCG9476
Hose Collar Guards - COLLARGUARD #2 .940 X 3-1/2"

24.6

0.94" (23.8mm)

0.060

1.5

-
VCG9477
Plastic Collar Guard Restrictors - COLLARGUARD #3 1.080 X 3-1/2"

27.2

1.08" (27.43mm)

0.060

1.5

-
Legend:
- Add to Cart
- View Price
Wall thickness is measured approx. ¼" (6.35mm) from open end. Wall thickness increases slightly towards the closed end of the part
Not Quite Sure What You Need? Want to Consider Another Type or a Different Material?
Consult MOCAP's Exclusive
Application Advisor
for Assistance.
Vinyl Collar Guard Bend Restrictors - Information
MOCAP
Vinyl Plastic Hose Collar Guards are flexible but tough reinforcement bend restrictors designed for water, hydraulic and pressure washer hoses. These tough bend restrictors prevent damage to consumer and industrial hoses extending the life of the hose. Easy to install hose bend restrictors feature a tapered design that simplifies installation and provides a secure fit. The inside lip of the hose bend restrictor attaches to the coupling, locking the restrictor in place.
Collar Guard Bend Restrictors can be
imprinted and customized
for your product.
​
Durable and Flexible Vinyl Plastic
Sizes to fit 5/8" through 1" Hoses
Prevents Kinking, Crimping and Breaking