General Purpose Plugs for Unified/Straight Threads
GPU
View Larger Image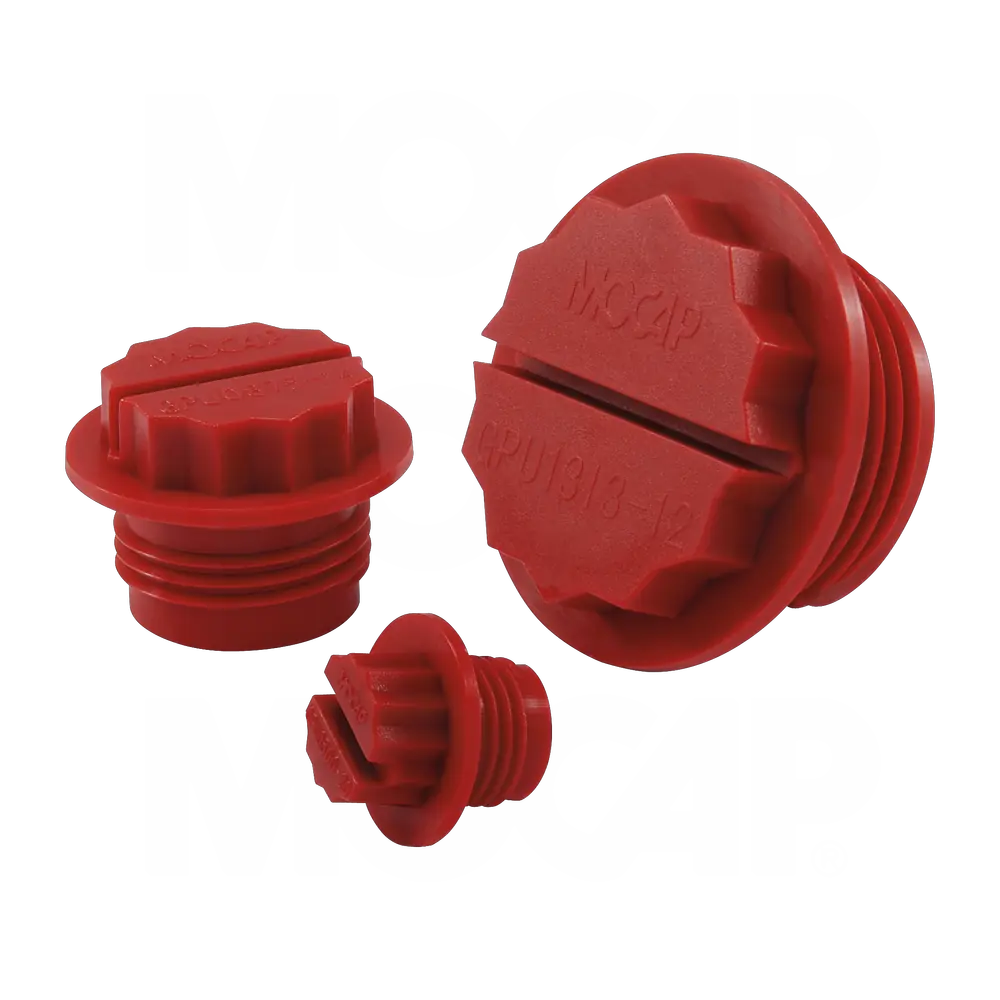 Material: PP (Polypropylene)
Stocked Material: PP (Red)
Designed to Provide Positive Seal on SAE Straight-Thread Ports
Features a Molded-In O-Ring Style Bead and External Lip on the Flange to Seal Out Contaminants
Part #
Description
To Fit STD Thread
Length

Stem Height

Flange OD


Box

/

Mini

/

Micro


QTY
Buy Online
More info
GPU0437-20
General Purpose Plugs for Unified/Straight Threads - GEN PURPOSE PLUG FOR 7/16-20 STR THRDS
7/16 - 20

8.6

0.210

5.3

0.660

16.8

8000

1600

160

GPU0437-24
Plastic Plugs for Unified and Straight Threads - GEN PURPOSE PLUG FOR 7/16-24 STR THRDS
7/16 - 24

8.6

0.210

5.3

0.660

16.8

8000

1600

160

GPU0500-20
General Purpose Plastic Bolt for UNF Threads - GEN PURPOSE PLUG FOR 1/2-20 STR THRDS
1/2 - 20

8.6

0.250

6.4

0.730

18.5

6000

1200

120

GPU0562-18
Polypropylene Plastic Plug Caps for UNF Threads - GEN PURPOSE PLUG FOR 9/16-18 STR THRDS
9/16 - 18

9.1

0.250

6.4

0.800

20.3

6000

1200

120

GPU0625-18
General Purpose Plastic UNF Plugs - GEN PURPOSE PLUG FOR 5/8-18 STR THRDS
5/8 - 18

9.1

0.250

6.4

0.870

22.1

5000

1000

100

GPU0750-16
Plastic Pipe Fitting - GEN PURPOSE PLUG FOR 3/4-16 STR THRDS
3/4 - 16

10.4

0.250

6.4

1.020

25.9

3000

600

60

GPU0875-14
Plastic Straight Thread Plugs - GEN PURPOSE PLUG FOR 7/8-14 STR THRDS
7/8 - 14

13.5

0.250

6.4

1.160

29.5

2000

400

40

GPU1000-14
Thread Plug - GEN PURPOSE PLUG FOR 1-14 STR THRDS
1 - 14

13.5

0.250

6.4

1.380

35.1

1500

300

30

GPU1062-12
General Purpose Plugs for Unified/Straight Threads - GEN PURPOSE PLUG FOR 1-1/16-12 STR THRDS
1-1/16 - 12

15.5

0.250

6.4

1.450

36.8

1000

200

20

GPU1187-12
General Purpose Plugs for Unified/Straight Threads - GEN PURPOSE PLUG FOR 1 3/16-12 STR THRDS
1-3/16 - 12

15.5

0.250

6.4

1.600

40.6

1000

200

20

GPU1313-12
Plastic Plugs for Unified and Straight Threads - GEN PURPOSE PLUG FOR 1-5/16-12 STR THRDS
1-5/16 - 12

15.5

0.250

6.4

1.740

44.2

1000

200

20

GPU1625-12
General Purpose Plastic Bolt for UNF Threads - GEN PURPOSE PLUG FOR 1-5/8-12 STR THRDS
1-5/8 - 12

15.5

0.250

6.4

2.170

55.1

700

140

14

GPU1875-12
Polypropylene Plastic Plug Caps for UNF Threads - GEN PURPOSE PLUG FOR 1 7/8-12 STR THRDS
1-7/8 - 12

15.5

0.250

6.4

2.440

62.0

600

120

12

Part #
Description
To Fit STD Thread
Length

Stem Height

Flange OD


Box

/

Mini

/

Micro


QTY
Buy Online
More info
Legend:
- Add to Cart
- View Price
​
Micropacks are only available for purchase through our online store.
​
Not Quite Sure What You Need? Want to Consider Another Type or a Different Material?
Consult MOCAP's Exclusive
Application Advisor
for Assistance.
General Purpose Plugs for Unified/Straight Threads - Information
MOCAP General Purpose Plugs are designed for use on Unified/Straight threads and fittings. These Threaded Plastic Plugs are slotted, and feature a 12-point head for screwdriver, socket or wrench tightening.

Designed to provide a positive seal on
SAE straight-threaded ports
. Molded-in O-Ring style bead seats into the bevel of the threaded opening to prevent fluid or oil leakage. When tightened, an external lip on the flange compresses against the surface to keep contaminants and debris from the part face.
Our GPU Series Threaded Plugs are molded in
Red
polypropylene plastic
and sized to plug threads from 1/8 thru 1/2.
MOCAP stocks General Purpose Plugs for Unified/Straight Threads in many sizes for immediate shipment.
MOCAP now offers Micro-Pack and Mini-Pack quantities when less than case quantities are what you really need. To place an order, click the cart icon on the size chart. Or, to get more information about MOCAP products, call 800.633.6775 or use our
Contact Request Form
to receive information by e-mail.