Tear Tab Plastic Caps for BSP Threads
TCBSP
View Larger Image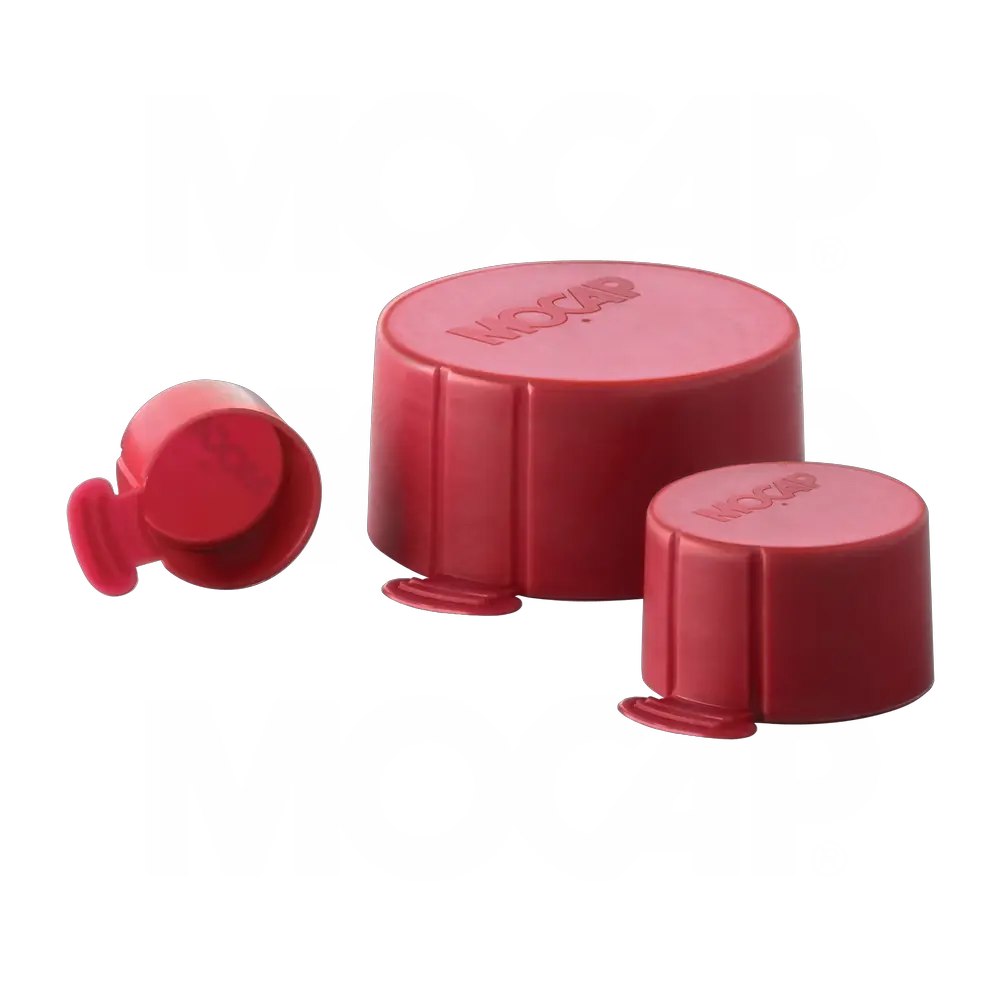 Material: LDPE (Low Density Polyethylene)
Stocked Material: LDPE (Red)
Secure Fit Until Removed by Pulling Tab and Breaking Seal
Use as Shipping Cap, End Cap or Thread Protector
Part #
Description
To Fit BSP
Inside Diameter

Inside Length


Box

/

Mini

/

Micro


QTY
Buy Online
More info
TCBSP0250
Tear Tab Plastic Caps for BSP Threads - TEAR CAP FOR 0.250" (1/4") BSP THRDS LDPE
1/4 - 19

12.9

11.0

5000

1000

100

TCBSP0375
Removable Plastic Tear Caps for BSP Threads - TEAR CAP FOR 0.375" (3/8") BSP THRDS LDPE
3/8 - 19

16.4

12.0

5000

1000

100

TCBSP0500
Plastic Tear Away Plastic Caps for BSP Threads - TEAR CAP FOR 0.500" (1/2") BSP THRDS LDPE
1/2 - 14

20.7

15.0

2500

500

50

TCBSP0625
Plastic Caps for BSP Threads with Tear Tab - TEAR CAP FOR 0.625 (5/8") BSP THRDS LDPE
5/8 - 14

22.6

18.5

2500

500

50

TCBSP0750
Polyethylene Tear Caps for BSP Threads - TEAR CAP FOR 0.750" (3/4") BSP THRDS LDPE
3/4 - 14

26.1

23.8

1500

300

30

TCBSP0875
Tear Caps for BSP Threads - TEAR CAP FOR 0.875" (7/8") BSP THRDS LDPE
7/8 - 14

29.9

25.0

1500

300

30

TCBSP1000
Tear-off cap for BSP Threads - TEAR CAP FOR 1.000" (1") BSP THRDS LDPE
1 - 11

32.9

18.0

1500

300

30

Part #
Description
To Fit BSP
Inside Diameter

Inside Length


Box

/

Mini

/

Micro


QTY
Buy Online
More info
Legend:
- Add to Cart
- View Price
​

Tear Tab makes REMOVAL EASY:
Pull the tab up to easily break the seal and the CAP comes right off!
Micropacks are only available for purchase through our online store.
​
Not Quite Sure What You Need? Want to Consider Another Type or a Different Material?
Consult MOCAP's Exclusive
Application Advisor
for Assistance.
Tear Tab Plastic Caps for BSP Threads - Information
MOCAP Tear Tab Plastic Caps are designed to fit over threaded tubing, rods and fittings. These plastic caps are ideal for use as shipping caps, end caps, pipe caps, product protection and thread protectors. Inner rings lock cap securely onto threads until the cap is removed by pulling the easy grip tab and breaking the seal.

Our line of Tear Tab plastic caps has been expanded to include sizes to fit standard straight threads, metric threads,
NPT threads
and
BSP threads
.
Secure Fit Until Removed by Pulling Tab and Breaking Seal
Use as End Cap, Shipping Cap or Thread Protector
Sizes to fit 1/8 through 3 NPT Threads
Other Sizes Available to Fit Standard, Metric and BSP Threads
MOCAP stocks Tear Tab Plastic Caps for BSP Threads in many sizes for immediate shipment.
MOCAP now offers Micro-Pack and Mini-Pack quantities when less than case quantities are what you really need. To place an order, click the cart icon on the size chart. Or, to get more information about MOCAP products, call 800.633.6775 or use our
Contact Request Form
to receive information by e-mail.