Polyimide High Temperature Masking Tape
MCT800
View Larger Image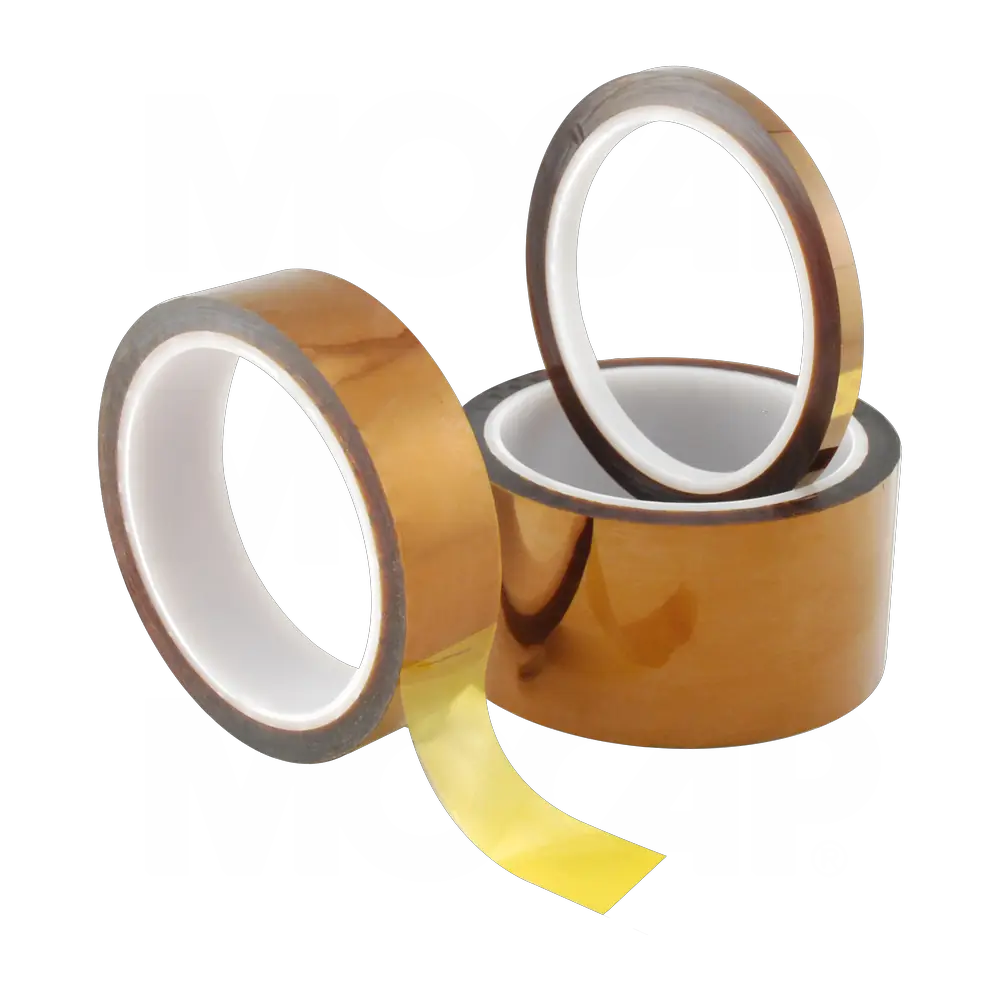 Material: Polyimide
Adhesive Leaves No Residue after Removal
Part #
Description
Tape Width

Roll Length


Box


QTY
Buy Online
More info
MCT-800-3/16
Polyimide High Temperature Masking Tape - GOLD POLYIMIDE TAPE 3/16" WIDE X 36 YDS LONG

4.8

32.9

2

MCT-800-1/4
High-Temp Polyimide Masking Tape - GOLD POLYIMIDE TAPE 1/4" WIDE X 36 YDS LONG

6.4

32.9

4

MCT-800-3/8
Polyimide Masking Tapes - GOLD POLYIMIDE TAPE 3/8" WIDE X 36 YDS LONG

9.5

32.9

2

MCT-800-1/2
High Temperature Polyimide Tape - GOLD POLYIMIDE TAPE 1/2" WIDE X 36 YDS LONG

12.7

32.9

2

MCT-800-3/4
Heat-Resistant Polyimide Masking Tape - GOLD POLYIMIDE TAPE 3/4" WIDE X 36 YDS LONG

19.1

32.9

2

MCT-800-1
Hi-Temperature Masking Tape - GOLD POLYIMIDE TAPE 1" WIDE X 36 YDS LONG

25.4

32.9

1

MCT-800-1.5
High Temperature Amber Polyimide Tape - GOLD POLYIMIDE TAPE 1.5" WIDE X 36 YD LONG

38.1

32.9

1

MCT-800-1.75
High-Temp Polyimide Masking Film - GOLD POLYIMIDE TAPE 1.75" WIDE X 36 YDS LONG

44.5

32.9

1

MCT-800-2
High Temp Masking Product - GOLD POLYIMIDE TAPE 2" WIDE X 36 YDS LONG

50.8

32.9

1

MCT-800-2.25
Polyimide High Temperature Masking Tape - GOLD POLYIMIDE TAPE 2.25" WIDE X 36 YDS LONG

57.2

32.9

1

MCT-800-3
High-Temp Polyimide Masking Tape - GOLD POLYIMIDE TAPE 3" WIDE X 36 YDS LONG

76.2

32.9

1

MCT-800-4
Polyimide Masking Tapes - GOLD POLYIMIDE TAPE 4" WIDE X 36 YDS LONG

101.6

32.9

1

MCT-800-5
High Temperature Polyimide Tape - GOLD POLYIMIDE TAPE 5" WIDE X 36 YDS LONG

127.0

32.9

1

MCT-800-6
Heat-Resistant Polyimide Masking Tape - GOLD POLYIMIDE TAPE 6" WIDE X 36 YDS LONG

152.4

32.9

1

Part #
Description
Tape Width

Roll Length


Box


QTY
Buy Online
More info
Legend:
- Add to Cart
- View Price
Not Quite Sure What You Need? Want to Consider Another Type or a Different Material?
Consult MOCAP's Exclusive
Application Advisor
for Assistance.
Polyimide High Temperature Masking Tape - Information
MOCAP
High Temperature Polyimide Tapes are in stock and ready for immediate shipment. Polyimide tape is perfect for
powder coating
and other
high temperature applications
because it resists continuous temperatures up to 500°F(260°C) for 1 hour and resists short exposures over 700°F(371°C). Polyimide tapes are stocked on wide rolls and can be cut to your specific width and shipped within 1-2 business days upon request. Also available are
polyimide discs
stocked in sizes from 3/16" to 1-3/4" diameters.
Polyimide is also known by its trade name Kapton™, however
MOCAP
's
polyimide tapes and discs
are not the Kapton™ brand yet they perform equally as well.
For lower temperature requirements consider
MOCAP
polyester tapes
and
polyester discs
which resist temperatures up to 425°F(218°C) for 1 hour.
Polyimide Tapes are Easily Removed after Use
Silicone Based Adhesive Leaves No Residue after Removal
MOCAP manufactures a full line of
masking products
including many types and sizes of masking caps and plugs available in
silicone rubber
,
EPDM rubber
and
high temperature vinyl
. Most are stocked for immediate shipment. To place an order, call MOCAP at 800.633.6775.
CLICK HERE to view MOCAP's other masking products.