Square Vinyl Plastic Caps
SVC
View Larger Image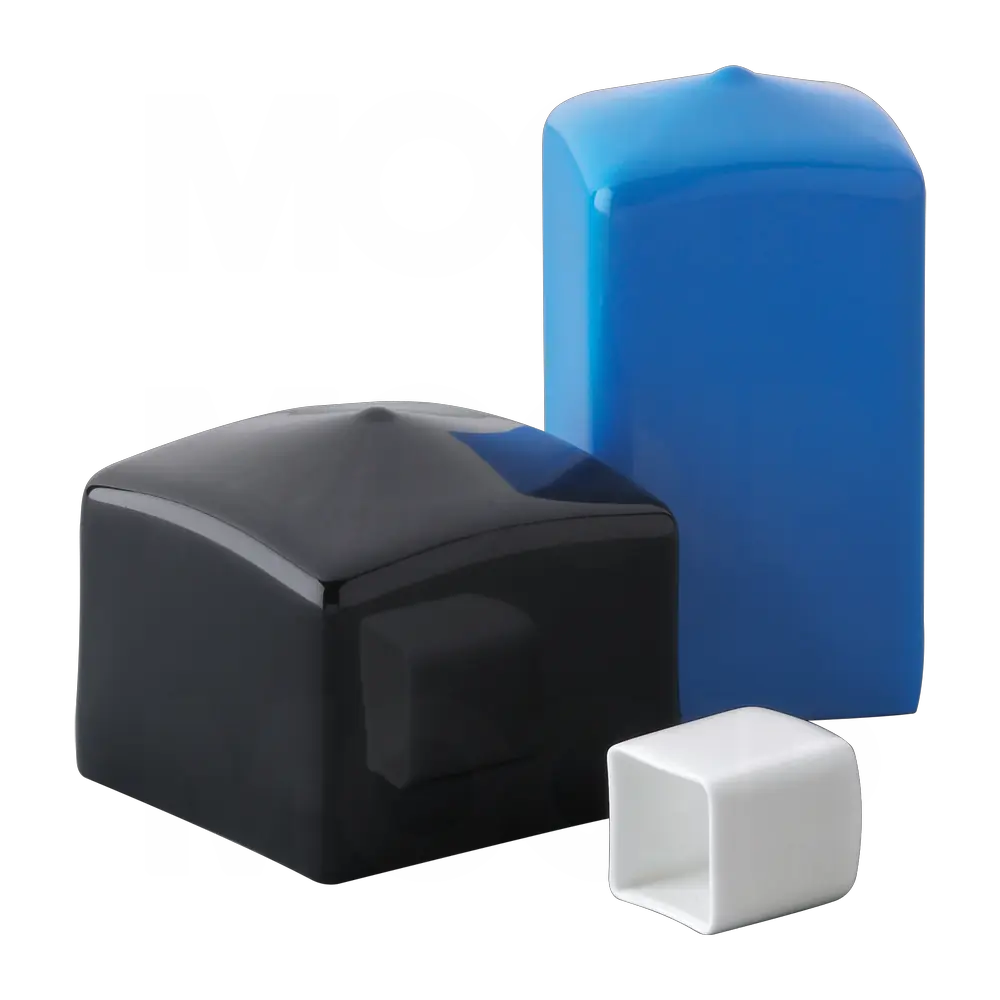 Material: Vinyl
Durable
Stretches for a Snug Fit but Won't Split, Tear or Shred
Part #
Description
Inside Width

Min Inside Length

Max Inside Length

Wall Thickness

Stocked Length


in

Buy Online
More info
SVC9172
Square Vinyl Plastic Caps - .420 X .420 X ?

10.7

6.4

14.3

0.060

1.5

-
SVC9413
Square Plastic Caps - .500 X .500 X ?

12.7

6.4

88.9

0.060

1.5

-
SVC9405
Square Rubber Caps - .615 X .615 X ?

15.6

6.4

38.1

0.060

1.5

-
SVC9241
Square Plastic End Caps - .687 X .687 X ?

17.4

6.4

22.2

0.060

1.5

-
SVC9414
Plastic Square End Caps - .750 X .750 X ?

19.1

6.4

88.9

0.060

1.5

-
SVC9585
Colored Rubber Masking Caps - .875 X .875 X ?

22.2

6.4

88.9

0.060

1.5

-
SVC9411
Square Protective Covers - 1.000 X 1.000 X ?

25.4

6.4

88.9

0.060

1.5

-
SVC9415
Square Rubber Caps - 1.250 X 1.250 X ?

31.8

6.4

88.9

0.065

1.7

-
SVC9416
Square Vinyl Cap - 1.500 X 1.500 X ?

38.1

6.4

88.9

0.065

1.7

-
SVC9412
Square Vinyl Plastic Caps - 2.000 X 2.000 X ?

50.8

6.4

88.9

0.065

1.7

-
Part #
Description
Inside Width

Min Inside Length

Max Inside Length

Wall Thickness

Stocked Length


in

Buy Online
More info
Legend:
- Add to Cart
- View Price
Wall thickness is measured approx. ¼" (6.35mm) from open end. Wall thickness increases slightly towards the closed end of the part
Not Quite Sure What You Need? Want to Consider Another Type or a Different Material?
Consult MOCAP's Exclusive
Application Advisor
for Assistance.
Square Vinyl Plastic Caps - Information
MOCAP Square Vinyl Plastic Caps
are
tough
yet
flexible
. These square plastic caps stretch just enough for a
perfect fit on square tubing
and
other square shapes
. Our square caps are designed for
product protection
or
quality finishing to square parts. Available in a wide range of square sizes.
Durable and Flexible
Sizes to Fit from 0.420" to 2" Square
Many Sizes up to 3-1/2" Inside Length
Many Color Options
MOCAP square vinyl plastic caps
are available in several sizes to fit your application.