View Larger Image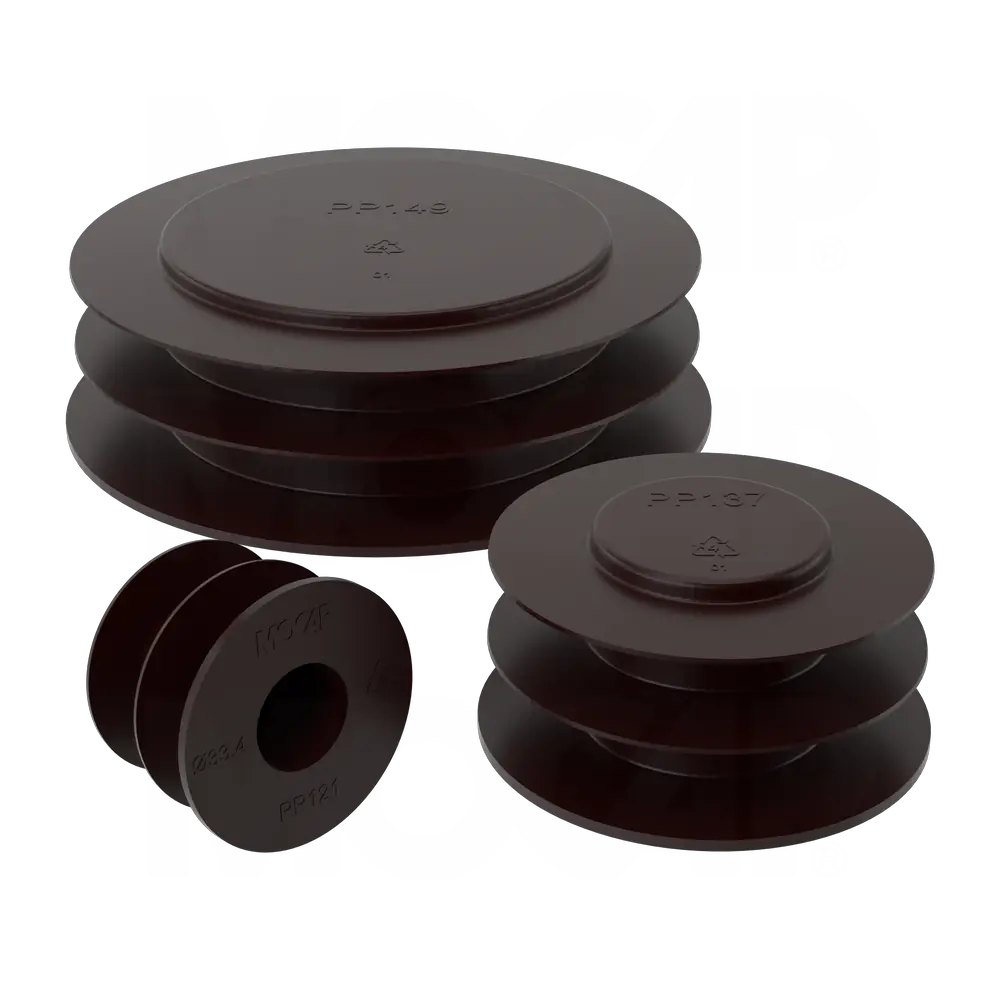 Material: LDPE (Low Density Polyethylene)
Stocked Material: LDPE (Black)
Designed to Protect Metric, BSP and NPT Pipe from Damage and Debris
Part #
Description
To Fit Pipe OD

To Fit BSP
To Fit NPT

Box

/

Mini

/

Micro


QTY
Buy Online
More info
PP114
Pipe Plugs - Pipe Plug - OD: 0.839" (21.3mm) 1/2" BSP & NPT

0.839

21.3

1/2"
1/2"

5000

1000

100

PP116
Plastic Pipe Plugs - Pipe Plug - OD: 1.000" (25.4mm)

1.000

25.4

5000

1000

100

PP117
Plastic Pipe End Stopper - Pipe Plug - OD: 1.051" (26.7mm) 3/4" BSP & NPT

1.051

26.7

3/4"
3/4"

4000

800

80

PP121
Plastic Pipe End Plug Caps - Pipe Plug - OD: 1.315" (33.4mm) 1" BSP & NPT

1.315

33.4

1"
1"

4500

900

90

PP124
Black Polyethylene Plastic End Caps - Pipe Plug - OD: 1.500" (38.1mm) 1-1/8" BSP

1.500

38.1

1-1/8"

2500

500

50

PP126
Pipe Plugs - Pipe Plug - OD: 1.654" (42mm) 1-1/4" BSP & NPT

1.654

42.0

1-1/4"
1-1/4"

2500

500

50

PP128
Black Plastic Pipe Plug Caps - Pipe Plug - OD: 1.902" (48.3mm) 1-1/2" BSP & NPT

1.902

48.3

1-1/2"
1-1/2"

2000

400

40

PP129
Plastic Pipe End Stopper - Pipe Plug - OD: 1.969" (50mm)

1.969

50.0

1200

240

24

PP134
Pipe Plug - Pipe Plug - OD: 2.244" (57mm)

2.244

57.0

1200

240

24

PP135
Pipe Plugs - Pipe Plug - OD: 2.374" (60.3mm) 2" BSP & NPT

2.374

60.3

2"
2"

1200

240

24

PP137
Plastic Pipe Plugs - Pipe Plug - OD: 2.500" (63.5mm)

2.500

63.5

500

100

10

PP140
Plastic Pipe End Stopper - Pipe Plug - OD: 2.874" (73mm) 2-1/2" NPT

2.874

73.0

2-1/2"

500

100

10

PP141
Plastic Pipe End Plug Caps - Pipe Plug - OD: 3.004" (76.3mm) 2-1/2" BSP

3.004

76.3

2-1/2"

400

80

8

PP144
Black Polyethylene Plastic End Caps - Pipe Plug - OD: 3.500" (88.9mm) 3" BSP & NPT

3.500

88.9

3"
3"

400

80

8

PP147
Pipe Plugs - Pipe Plug - OD: 4.000" (101.6mm) 3-1/2" NPT

4.000

101.6

3-1/2"

300

60

6

PP149
Black Plastic Pipe Plug Caps - Pipe Plug - OD: 4.252" (108mm)

4.252

108.0

225

45

5

PP150
Plastic Pipe End Stopper - Pipe Plug - OD: 4.488" (114mm) 4" BSP & NPT

4.488

114.0

4"
4"

225

45

5

PP151
Pipe Plug - Pipe Plug - OD: 4.764" (121mm)

4.764

121.0

120

24

3

PP152
Pipe Plugs - Pipe Plug - OD: 5.000" (127mm) 4-1/2" BSP

5.000

127.0

4-1/2"

120

24

3

PP154
Plastic Pipe Plugs - Pipe Plug - OD: 5.236" (133mm)

5.236

133.0

120

24

3

PP156
Plastic Pipe End Stopper - Pipe Plug - OD: 5.563" (141.3mm)

5.563

141.3

120

24

3

PP157
Plastic Pipe End Plug Caps - Pipe Plug - OD: 5.984" (152mm) 5-1/2" BSP

5.984

152.0

5-1/2"

80

16

2

PP159
Black Polyethylene Plastic End Caps - Pipe Plug - OD: 6.260" (159mm)

6.260

159.0

80

16

2

PP161
Pipe Plugs - Pipe Plug - OD: 6.626" (168.3mm) 6" BSP & NPT

6.626

168.3

6"
6"

80

16

2

PP162
Black Plastic Pipe Plug Caps - Pipe Plug - OD: 7.000" (177.8mm)

7.000

177.8

80

16

2

Part #
Description
To Fit Pipe OD

To Fit BSP
To Fit NPT

Box

/

Mini

/

Micro


QTY
Buy Online
More info
Legend:
- Add to Cart
- View Price
Micropacks are only available for purchase through our online store.
Not Quite Sure What You Need? Want to Consider Another Type or a Different Material?
Consult MOCAP's Exclusive
Application Advisor
for Assistance.
Pipe Plugs - Information
MOCAP Pipe Plugs are designed to fit many different styles and sizes of threaded pipe ends, allowing for maximum flexibility. Designed to secure Metric, BSP and NPT threads from damage and debris during transit, handling and storage, our PP series plugs are easy to install and remove.

Our PP Series Plugs are molded in
Black
polyethylene plastic
and sized to fit 1/2 thru 6
NPT
or
1/2 thru 6
BSP
or
21.3mm thru 177.8mm threads.
MOCAP stocks Pipe Plugs in many sizes for immediate shipment.
MOCAP now offers Micro-Pack and Mini-Pack quantities when less than case quantities are what you really need. To place an order, click the cart icon on the size chart. Or, to get more information about MOCAP products, call 800.633.6775 or use our
Contact Request Form
to receive information by e-mail.