Finger Nub Vinyl Grips
MFG
View Larger Image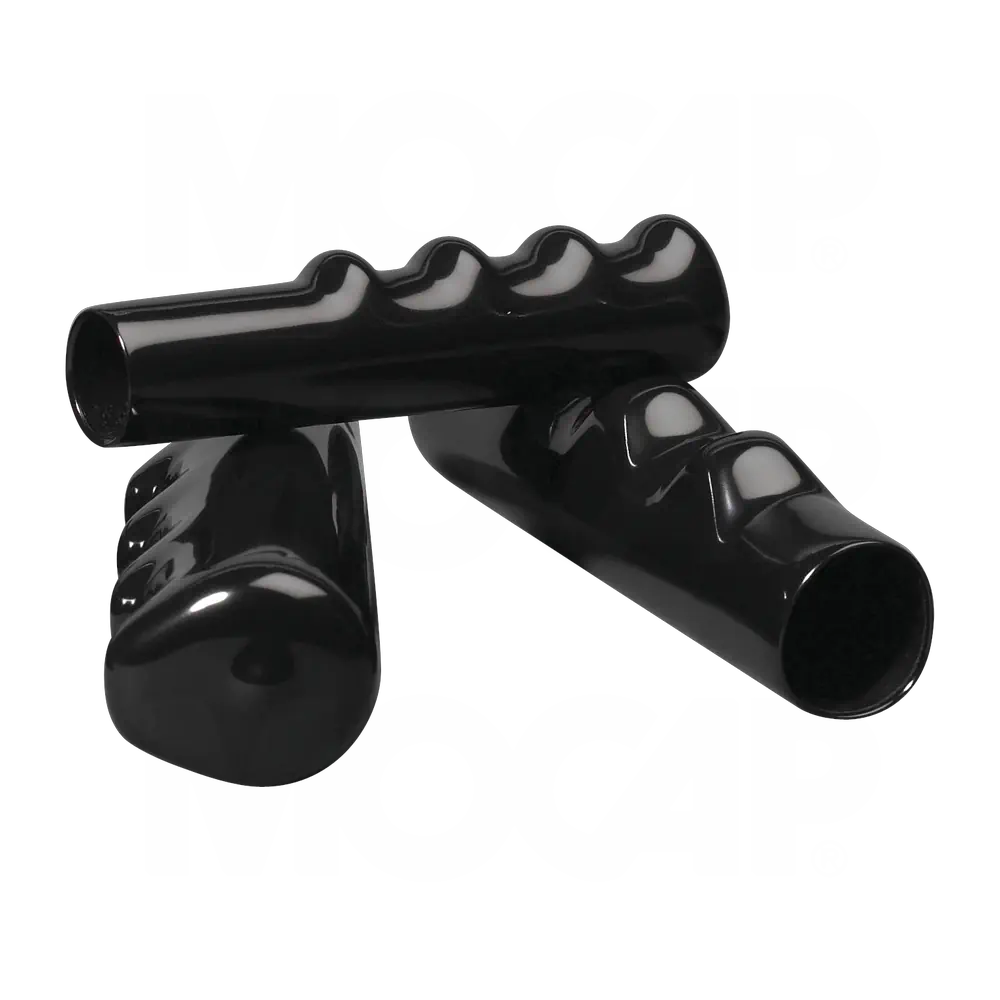 Material: Vinyl (Black)
Ergonomic Design Allows for a Secure Hold
Stretches for a Snug Fit but Won't Split, Tear or Shred
Part #
Description
To Fit Diameter
Inside Diameter

Min Inside Length

Max Inside Length

Wall Thickness

Stocked Length


in

Box

/

Mini

/

Micro


QTY
Buy Online
More info
MFG0293
Finger Nub Vinyl Grips - MFG.610 X ? FINGER NUB GRIP
5/8"

15.5

63.5

95.3

0.065

1.6

3.75

880

176

18

MFG0188
Vinyl Hand Grips - MFG.730 X ? FINGER NUB GRIP
3/4"

18.5

88.9

114.3

0.065

1.6

4.5

600

120

12

MFG0072
Vinyl Grips with Finger Nubs - MFG.840 X ? FINGER NUB GRIP
7/8"

21.3

101.6

114.3

0.065

1.6

4.5

360

72

8

MFG0043
Handle Grips with Finger Slots - MFG.960 X 4-1/2 FINGER NUB GRIP
1"

24.4

88.9

114.3

0.065

1.6

4.5

360

72

7
Legend:
- Add to Cart
- View Price
Wall thickness is measured approx. ¼" (6.35mm) from open end. Wall thickness increases slightly towards the closed end of the part
Micropacks are only available for purchase through our online store.
Not Quite Sure What You Need? Want to Consider Another Type or a Different Material?
Consult MOCAP's Exclusive
Application Advisor
for Assistance.
Finger Nub Vinyl Grips - Information
MOCAP's
Dip-Molded Finger Nub Vinyl Plastic Grips not only improve appearance but also provide a secure comfortable grip on items with handles or levers. Our
round vinyl grips
are available in a variety materials, colors, hardness durometers (soft, semi-rigid or hard) and diameters to fit your application. Choose from our many
material options
including our traditional smooth & glossy vinyl or textured vinyl material. Flexible but durable vinyl materials can stretch onto slightly larger dimensions for a snug fit without splitting, tearing or shredding. All
MOCAP
round grip materials are tough, weather resistant and attractive.
Also available:
round vinyl grips
to fit 3/16 to 4-3/4" diameters.
Our vinyl plastic grips can be imprinted with your company name, logo or message.
Consider
MOCAP
's
Double Dip process
which allows you to combine various colors, formulas and textures to produce a unique product and improve overall appearance.
MOCAP stocks Finger Nub Vinyl Grips in many sizes for immediate shipment.
MOCAP now offers Micro-Pack and Mini-Pack quantities when less than case quantities are what you really need. To place an order, click the cart icon on the size chart. Or, to get more information about MOCAP products, call 800.633.6775 or use our
Contact Request Form
to receive information by e-mail.