High Temperature Round Vinyl Caps
RVC-T
View Larger Image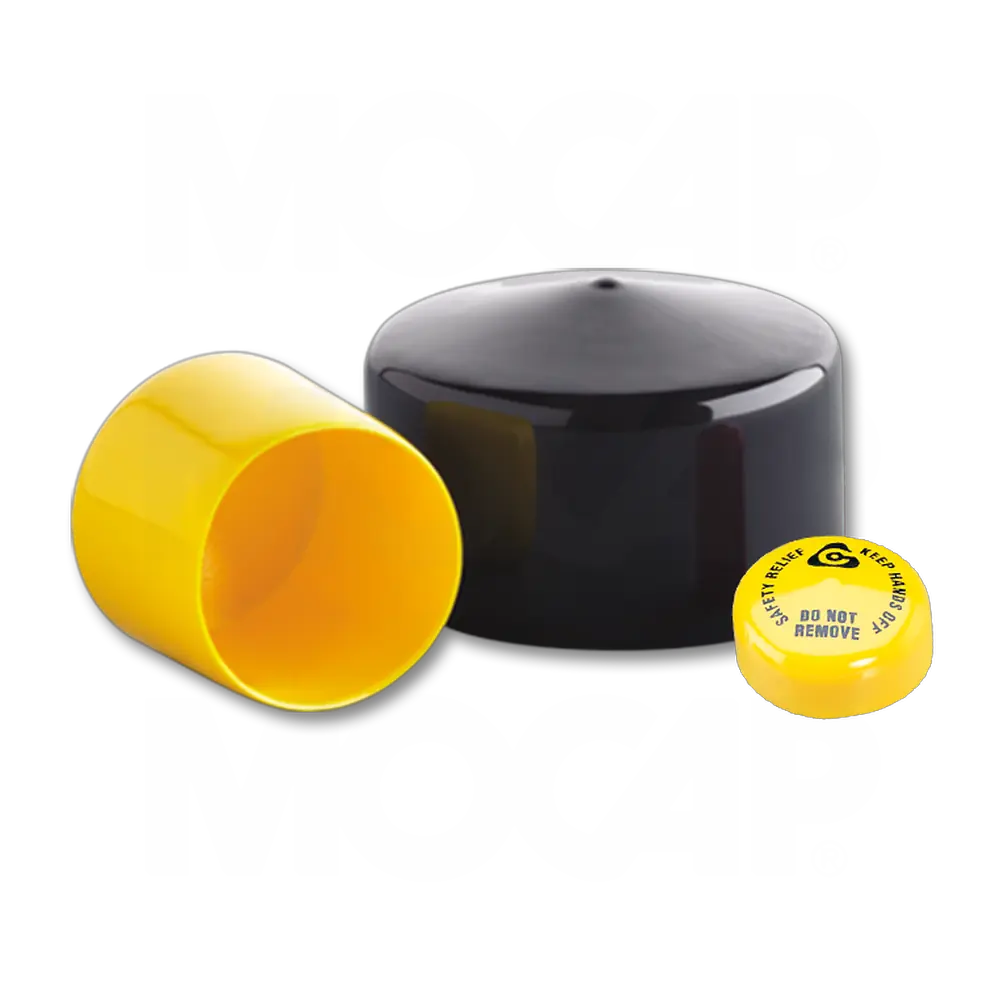 Material: High-Temp Vinyl
Flexible Yet Durable - Won't Split, Tear or Shred
Part #
Description
To Fit STD Thread
To Fit METRIC Thread
To Fit NPT
Inside Diameter

Min Inside Length

Max Inside Length

Wall Thickness

Stocked Length


in

Buy Online
More info
RVC9001T
High Temperature Round Vinyl Caps - .062 X ? HT Cap
#1

1.6

4.8

12.7

0.022

0.6

-
RVC9002T
High Temp Round Vinyl Caps - .070 X ? HT Cap
#1, #2

1.8

4.8

12.7

0.022

0.6

-
RVC9003T
High-Temp Plastic Caps - .080 X ? HT Cap
#2, #3

2.0

4.8

15.9

0.028

0.7

-
RVC9004T
High Temperature Round Plastic Caps - .093 X ? HT Cap
#3, #4

2.4

4.8

19.1

0.028

0.7

-
RVC9005T
Plastic High Temp Cover Caps - .112 X ? HT Cap
#4, #5

2.8

4.8

25.4

0.030

0.8

-
RVC9006T
Round Plastic Hi-Temp Cap - .125 X ? HT Cap
#5 , #6

3.2

4.8

38.1

0.033

0.8

-
RVC9007T
Round Rubber Hi-Temp Cap - .137 X ? HT Cap
M4

3.5

4.8

38.1

0.033

0.8

-
RVC9008T
Plastic Thermal Cap - .156 X ? HT Cap
#8
M4

4.0

4.8

38.1

0.038

1.0

-
RVC9009T
High Temp Vinyl Round Cap - .172 X ? HT Cap
#10
M5

4.4

4.8

38.1

0.038

1.0

-
RVC9010T
High Temperature Round Vinyl Caps - .187 X ? HT Cap
M5

4.7

4.8

38.1

0.038

1.0

-
RVC9011T
High Temp Round Vinyl Caps - .207 X ? HT Cap
#12

5.3

4.8

38.1

0.038

1.0

-
RVC9012T
High-Temp Plastic Caps - .218 X ? HT Cap

5.5

4.8

38.1

0.038

1.0

-
RVC9440T
High Temperature Round Plastic Caps - .234 X ? HT Cap
1/4 - 20
M6

5.9

4.8

38.1

0.038

1.0

-
RVC9013T
Plastic High Temp Cover Caps - .250 X ? HT Cap
1/4 - 20

6.4

4.8

38.1

0.038

1.0

-
RVC9014T
Round Plastic Hi-Temp Cap - .281 X ? HT Cap

7.1

4.8

38.1

0.038

1.0

-
RVC9278T
Round Rubber Hi-Temp Cap - .300 X ? HT
5/16 - 24
M8

7.6

4.8

38.1

0.038

1.0

-
RVC9015T
Plastic Thermal Cap - .313 X ? HT Cap
5/16 - 24
M8

8.0

4.8

38.1

0.038

1.0

-
RVC9016T
High Temp Vinyl Round Cap - .320 X ? HT Cap

8.1

4.8

25.4

0.038

1.0

-
RVC9017T
High Temperature Round Vinyl Caps - .343 X ? HT Cap

8.7

4.8

38.1

0.038

1.0

-
RVC9018T
High Temp Round Vinyl Caps - .364 X ? HT Cap
3/8 - 24

9.2

4.8

38.1

0.038

1.0

-
RVC9019T
High-Temp Plastic Caps - .375 X ? HT Cap
3/8 - 24
M10

9.5

4.8

38.1

0.038

1.0

-
RVC9542T
High Temperature Round Plastic Caps - .390 X ? IL HT CAP (UP TO 2")
M10
1/8

9.9

4.8

50.8

0.055

1.4

-
RVC9021T
Plastic High Temp Cover Caps - .406 X ? HT Cap
7/16 - 20
1/8

10.3

4.8

38.1

0.055

1.4

-
RVC9022T
Round Plastic Hi-Temp Cap - .437 X ? HT Cap
7/16 - 20
M12

11.1

4.8

38.1

0.055

1.4

-
RVC9023T
Round Rubber Hi-Temp Cap - .500 X ? HT Cap
1/4

12.7

4.8

38.1

0.060

1.5

-
RVC9024T
Plastic Thermal Cap - .531 X ? HT Cap
9/16 - 18
M14
1/4

13.5

4.8

38.1

0.060

1.5

-
RVC9025T
High Temp Vinyl Round Cap - .562 X ? HT Cap
9/16 - 18

14.3

4.8

38.1

0.060

1.5

-
RVC9306T
High Temperature Round Vinyl Caps - .610 X ? HT
5/8 - 18
M16

15.5

4.8

25.4

0.060

1.5

-
RVC9034T
High Temp Round Vinyl Caps - .625 X ? HT Cap
11/16 - 16
M16
3/8

15.9

4.8

38.1

0.060

1.5

-
RVC9035T
High-Temp Plastic Caps - .687 X ? HT Cap
3/4 - 16
M18

17.4

4.8

38.1

0.060

1.5

-
RVC9036T
High Temperature Round Plastic Caps - .750 X ? HT Cap
13/16 - 16
M20

19.1

4.8

38.1

0.060

1.5

-
RVC9037T
Plastic High Temp Cover Caps - .812 X ? HT Cap
13/16 - 16
1/2

20.6

4.8

38.1

0.060

1.5

-
RVC9038T
Round Plastic Hi-Temp Cap - .843 X ? HT Cap
7/8 - 14
M22

21.4

4.8

38.1

0.060

1.5

-
RVC9039T
Round Rubber Hi-Temp Cap - .875 X ? HT Cap
7/8 - 14

22.2

4.8

38.1

0.060

1.5

-
RVC9040T
Plastic Thermal Cap - .937 X ? HT Cap
1 - 16
M24

23.8

4.8

38.1

0.060

1.5

-
RVC9041T
High Temp Vinyl Round Cap - 1.000 X ? HT Cap
1-1/16 - 12
M26
3/4

25.4

6.4

38.1

0.060

1.5

-
RVC9397T
High Temperature Round Vinyl Caps - 1.062 x ? HT
1-1/16 - 12
M27

27.0

6.4

38.1

0.060

1.5

-
RVC9273T
High Temp Round Vinyl Caps - 1.125 X ? HT
1-3/16 - 12
M30

28.6

6.4

38.1

0.060

1.5

-
RVC9042T
High-Temp Plastic Caps - 1.187 X ? HT Cap
1-3/16 - 12

30.1

6.4

38.1

0.060

1.5

-
RVC9043T
High Temperature Round Plastic Caps - 1.250 X ? HT Cap
1-5/16 - 12
M32
1

31.8

6.4

38.1

0.060

1.5

-
RVC9044T
Plastic High Temp Cover Caps - 1.500 X ? HT Cap
1-5/8 - 12
M39, M40

38.1

6.4

38.1

0.060

1.5

-
RVC9045T
Round Plastic Hi-Temp Cap - 1.625 X ? HT Cap
1-11/16 - 12
M42
1-1/4

41.3

6.4

38.1

0.060

1.5

-
RVC9046T
Round Rubber Hi-Temp Cap - 1.875 X ? HT Cap
1-7/8 - 12
M48
1-1/2

47.6

6.4

38.1

0.060

1.5

-
RVC9324T
Plastic Thermal Cap - 1.937 X ? HT
1-7/8 - 12

49.2

6.4

50.8

0.060

1.5

-
RVC9047T
High Temp Vinyl Round Cap - 2.000 X ? HT Cap
2
M52

50.8

6.4

44.5

0.060

1.5

-
RVC9048T
High Temperature Round Vinyl Caps - 2.125 X ? HT Cap
2-1/4 - 12
M52

54.0

6.4

38.1

0.060

1.5

-
RVC9049T
High Temp Round Vinyl Caps - 2.250 X ? HT Cap
2-1/4 - 12
M58, M60
2

57.2

6.4

38.1

0.060

1.5

-
RVC9050T
High-Temp Plastic Caps - 2.375 X ? HT Cap
2-1/2 - 12
2

60.3

6.4

38.1

0.060

1.5

-
RVC9051T
High Temperature Round Plastic Caps - 2.500 X ? HT Cap
2-1/2 - 12
M64

63.5

6.4

38.1

0.060

1.5

-
RVC9052T
Plastic High Temp Cover Caps - 2.625 X ? HT Cap
M68

66.7

6.4

38.1

0.060

1.5

-
RVC9053T
Round Plastic Hi-Temp Cap - 2.750 X ? HT Cap
M72
2-1/2

69.9

6.4

38.1

0.060

1.5

-
RVC9054T
Round Rubber Hi-Temp Cap - 3.000 X ? HT Cap
M80

76.2

6.4

38.1

0.060

1.5

-
RVC9055T
Plastic Thermal Cap - 3.500 X ? HT Cap
M90
3

88.9

6.4

38.1

0.060

1.5

-
RVC9490T
High Temp Vinyl Round Cap - 4.000 X ? HT Cap
M105
3-1/2

101.6

6.4

38.1

0.060

1.5

-
RVC9056T
High Temperature Round Vinyl Caps - 6.000 X ? HT Cap

152.4

6.4

44.5

0.060

1.5

-
Part #
Description
To Fit STD Thread
To Fit METRIC Thread
To Fit NPT
Inside Diameter

Min Inside Length

Max Inside Length

Wall Thickness

Stocked Length


in

Buy Online
More info
Legend:
- Add to Cart
- View Price
Wall thickness is measured approx. ¼" (6.35mm) from open end. Wall thickness increases slightly towards the closed end of the part
Not Quite Sure What You Need? Want to Consider Another Type or a Different Material?
Consult MOCAP's Exclusive
Application Advisor
for Assistance.
High Temperature Round Vinyl Caps - Information
High temperature resistant round masking caps are
available in sizes to fit 0.062" to 6" diameter parts
.
High-temperature resistant pull tab caps
also available.
Special High Temperature Resistant Plastic Material
Sizes to Fit 0.062" to 6" Diameters
Pull Tab Design Also Available